Post by Ofecks on Feb 22, 2012 23:59:36 GMT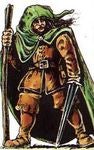 I don't think the 2H bonus is given in Prodigy mode. Are you doing the fresh start awards on Hardcore? That probably deserves a medal in and of itself, due to the lower stats.
Regarding my recent Epic Failure run, it is a success! Notable notes:
Since I needed Psi-Screen for one of the book 6 awards and couldn't take Nexus until book 11 (among other restrictions for the epic fails), I had to pick my bonus disciplines very carefully and not use the tried-and-true progression that I've always done. Additionally, I grabbed Animal Control in book 7 (after getting epic fail), which is something I usually don't play with at all. It is amazingly useful in almost every book, color me surprised.
book 6 - I got all the way to the epic failure, and didn't get it because I forgot to kill Redbeard. Doh! Also got the mischevious feat, murdered some cultists AND lots of other jerks to get the high combat medal. Rad.
book 7 - Once again, I got all the way to the heart of the maze and didn't have any of the 3 disciplines needed for the epic fail. Reset button activate. Gah, why does the medal have to be that awful skull? That's the only nightmare fuel illustration of Chalk's that
still
scares me to look at. Only other achiev I snagged was the one to kill both disembodied hands. I like the flavor text on the award.
book 8 - the epic fail took many tries because of the RNT, but at least I didn't make any stupid mistakes. Also, screw that Helghast. I skipped the entire town both times, well every time, because I was going for the minimum combat award and had to restart a few times due to RNT shenanigans in the swamp. Picked up Invisibility for some reason, don't remember why, but it probably served a purpose.
book 9 - the epic fail took 2 attemps, the 2nd of which I did some RNT analyzing to find the block with the most 0-3s for the dagger throw. I forgot about the circle of fire bonus, but whatever. The actual runs took a couple attempts as well, because I actually drowned in the cauldron. Usually have Nexus to help with that, but not this time! Only other medal I got was losing the first riddle but getting the 2nd. Maybe I'm getting old, but it took me like, a half hour to work out the solution in my head. =\ Again, not sure why I picked Divination for this one, pathsmanship would've been useful.
book 10 - this one was fun. I got the epic fail on the first attempt, while scouting a good route for the no-combat award. during this I discovered my new favorite moment of probably the entire series - the bear fight! More like, the bear WRECKING [nuts]. And being my buddy. :3 That was truly awesome, I loved it, and makes me wish I had taken Animal Control to this book when I was younger. I don't recall if I took pathsmanship on the epic fail run, but if I did, I got reeeeally lucky on the big ugly sarge roll (you're supposed to kill him, right?). Divination was quite useful in Torgar for avoiding that first Drakkar battle during the no-combat run.
book 11 - epic fail was extremely easy and pretty nondescript, although I like the award flavor text when you get it. I decided to switch gears in the actual run and go for both the high combat and bounty hunter, among others. Only I forgot the hint that Animal Control is a no-no for the latter... oh well, my bear buddy was worth it. And I did tear apart tons of dudes to get the high combat award. I wanted the tomb-looting one, but I forget how to get to the third one. Took along Psi-Surge for maximum murder output.
book 12 - this epic fail was very frustrating to do because of that one RNT roll you need to
fail
. Did RNT analysis (lower-right is the sweet spot), but it still took me probably a dozen tries to finally get it. And when I did, I said "[fudge] it" and 'swerded the [nuts] out of Kraagenskul... in four rounds. Noooooooooooooooooooooooooooo. 25 attempts later, I got the fail award, and even waited until I was at friggin Taaktal to unleash the eternal golden pain. Oh, believe me, I got my revenge on this book for the real run. Not that I really needed to legit finish it, but I had been saving every single potion so far for the 1-12 meta, so I might as well... I destroyed book 12. Had 16 combats, all with a +11 or more ratio (yes, even Gnaag). Some ratios were absolutely ridiculous (over 30

). They give you a retarded amount of CS-increasing loot, plus all my goodies and bonuses from before... I was a walking tank of death. I gravity-bong'd the Adagna on the Gnagg fight (yes, I made him wait while I smoked up), and ended up with a CS of 67(!). That's probably the absolute highest you can ever get in Prodigy mode. Swatted Gnaag (ha!) in 3 rounds - 70 EP, 61, 47, 0. Owned. Scoring a "K" on him felt pretty damn good. Also grabbed the bounty hunter award during my killing spree. The streets will flow with the blood of the nonbelievers... or something.
I never did take Nexus, which is really weird because it's usually one I grab at the start of book 6. Nope, didn't need it. Good run, good times.